What to Do Before Selling Old iPhone for iPhone 6
As the long-waited iPhone 6 starts to hit the shelves, most of the existing iPhone users are eager to abandon their old iPhones to get the new iPhone 6 or iPhone 6 Plus. Then the problem comes when they finally decide to sell the old iPhone - how to make sure the data on that iPhone is safe? Of course, you don't want to give the next owner access to your photos, messages, accounts, contacts, and any other personal info saved on the old iPhone. To protect your iPhone data from leaking out to others, here's some useful tips for you on how to backup and erase iPhone data before selling it.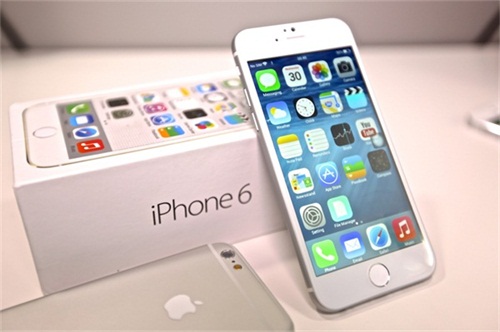 Part 1. Backup iPhone Data
Making backup of iPhone is a good habit, especially when the data on it is important for you. Before upgrading old iPhone to the new iPhone 6, the first thing is to back up the personal data of the iPhone in case you will need to restore the backup to iPhone 6 later. Generally, there are two simple ways to backup iPhone data.
1. Backup to iTunes
The first yet most common way is to backup iPhone data to iTunes via USB cable. You can do it with the following instructions:
• Connect iPhone to computer and open iTunes
• Click on your iPhone's name from the top-left
• Click "Back Up Now" button under "Summery" > "Backups"
Note: To do this, please make sure "Encrypt iPhone backup" is disabled in the settings.
More Tips: As we know, by using iTunes backup, it will save all the iPhone data automatically without providing the option to backup certain type of files selectively. If you prefer to backup some important data separately and access to the data freely, you are suggested to try another way by using a more powerful app, that is, iPhone Data Recovery, which allows you to preview and select whatever data on iPhone that you want to backup to your computer. See also: How to Backup iPhone Data without iTunes.
2. Backup to iCloud
Another easy way to backup iPhone is to use iCloud. The advantage of iCloud backup compared to iTunes is that instead of connecting to computer to restore the backup, it's more convenient than iTunes to set up the new iPhone 6 with Wi-Fi connectivity only. To backup iPhone data to iCloud, you'll need to:
• Open iPhone and go to "Settings"
• Tap on "iCloud" > "Storage & Backup"
• Enable "iCloud Backup" and tap on "Back Up Now"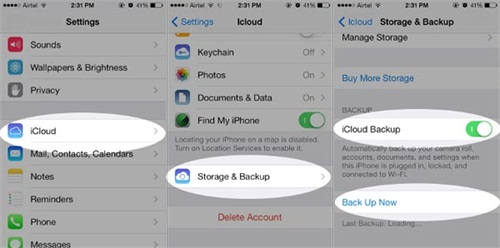 Note: iPhone Data Recovery also helps you to recover lost data from iCloud backup. See also: How to Restore Lost Photos from iPhone with iCloud Backup.
Part 2. Erase iPhone Data
The most important thing before selling old iPhone is to make sure the data is safe and not accessible by others. In order to do that, you must wipe off your iPhone thoroughly by erasing the private data on it.
1. Erase Private Data
To clear the private data on iPhone, you have two options. The first one is to delete them manually and individually. You can selectively to erase those data you don't want others to peak, such as your photos, contacts, messages, accounts, etc. But this will cost much time if you have thousands of such files.
In fact, you don't need to manually delete those personal files if you have iPhone Data Eraser in hand. It is a smart and professional data erasing software for iPhone which is designed to assist iOS users permanently and safely erase all kinds of private data on iPhone, iPad and iPod touch. With confidential military data being rendered unrecoverable, your personal information is well safe within the protection of this data eraser. See also: How to Delete Private Data on iPhone Permanently.
2. Erase All Data on iPhone
Of course, if you want to erase the private data as well as other data on iPhone, you can use the built-in erasing method provided by iPhone itself to erase all contents and settings on iPhone. It only takes 3 steps:
• Open iPhone and go to "Settings"
• Tap on "General" > "Reset"
• Tap on "Erase All Content and Settings" and reboot your iPhone
Note: Even with the default data erasing method of iPhone, those personal data will still remain on the iPhone's memory and can be easily recovered by some data recovery technologies. To wipe iPhone once and for all, you may have to rely on iPhone Data Eraser. See also: How to Permanently Erase iPhone Data Before Selling It.
Related Articles: