How to Securely and Permanently Erase iPhone Data Before You Sell It
I'm going to buy a new iPhone. But before I sell the old iPhone, I need to erase my iPhone permanently. Is the built-in erasing method on iPhone secure enough? How do I ensure that it completely wiped off all my personal information that can't be recovered by any data recovery software?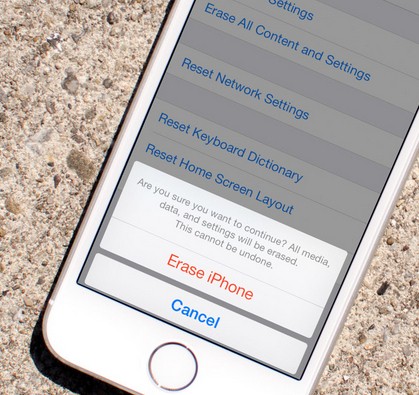 Before you sell your iPhone, it's extremely important and necessary to erase all data including contacts, text messages, photos, videos and other personal information on it, for you don't want others access your important personal data on the iPhone and leak your privacy out after you sell it. So how to securely and completely delete iPhone data so that no data recovery program can recover them later? Now simply follow the guide here to permanently erase your iPhone before selling.
You should be aware with the internal flash memory on your iPhone, data isn't really erased when you delete something. So in order to permanently delete data and personal information from iPhone, you are suggested to use a third-party data eraser software called iPhone Data Eraser which can assist you erase all contents on your iPhone 5S/5C/5/4S/4/3GS permanently with 1 click. It's able to erase all iPhone data, including Contacts, SMS, Call History, Calendars, Emails, Notes, Reminders, Apps, System settings, Apple ID, Photos, Videos, Safari Bookmarks, Passbook and so forth.
Before deleting your iPhone data permanently with iPhone data eraser, make sure you have downloaded the free trial and installed it on your PC.
Now, read on to begin wiping off the data on your iPhone to make sure it can't be accessed by others after you sell it.
Step 1. Backup Your iPhone Data
Before you use this iPhone data eraser to erase all data on your iPhone, take a backup of your data through iTunes or iCloud first, so that you can restore all your data to the new iPhone later.
1) Backup iPhone Data via iTunes
• Connect your iPhone to the computer that you normally sync it with;
• Open iTunes and select your iPhone under Devices in the left-hand navigation pane;
• Right-click the device and select Back Up.
Note: If you've purchased some items on your iPhone and haven't transferred these purchases to your computer yet, right-click the iPhone and choose "Transfer Purchases" to transfer the purchases prior to backup.
2) Backup iPhone via iCloud
• Ensure you're connected to a Wi-Fi network;
• Launch the Settings app;
• Navigate to iCloud -> Storage & Backup;
• Tap on Back Up Now.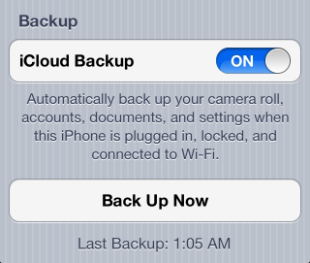 Step 2. Erase All Data on iPhone Permanently
• Connect your iPhone to computer
After launching iPhone Data Eraser, connect iPhone to computer via USB cable.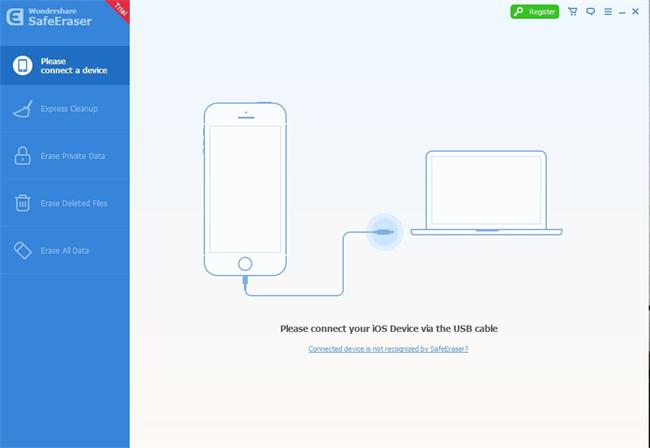 Once the program recognizes your iPhone, you'll see its main window as below: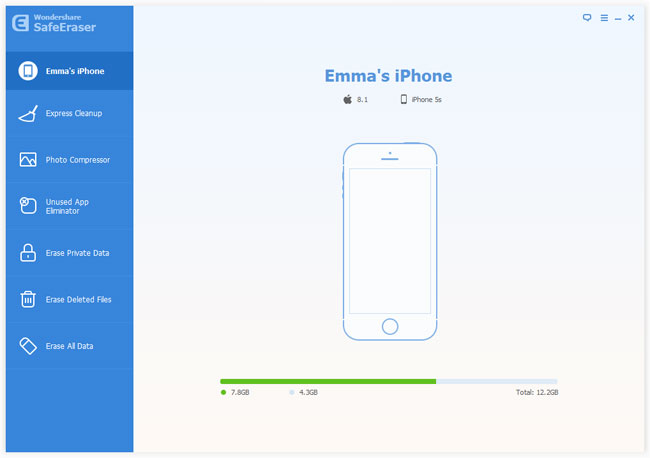 • Choose "Erase All Data on Device"
iPhone Data Eraser provides two ways of data erasing:
Erase all files on iOS devices: Wipe EVERYTHING including contacts, messages, photos, videos, apps, account info, passwords, emails and other personal data permanently from your iPhone.
Erase deleted data: Only wipe all deleted files existing on your iPhone.
Select the first one and move on.
• Begin to erase all data on your iPhone
There are 3 modes to erase all files on your iPhone: Low, medium and high. Choose the one according to your requirement and click on the "Start" button to let the program start to erase all your iPhone data.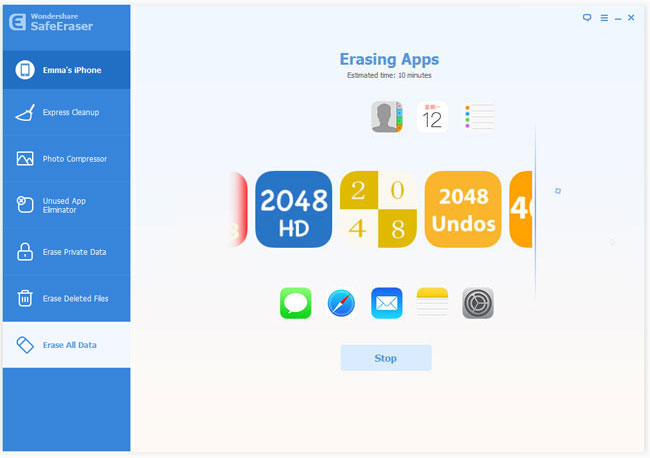 Note: Please don't disconnect your iPhone during the process. Or the data erasure will not complete successfully.
• Use your iPhone as a new one
When it completes wiping all contents on iPhone, the iPhone eraser program will show as follows. Click "Done" to finish. Now, You'll get a totally new iPhone as it was made in the factory.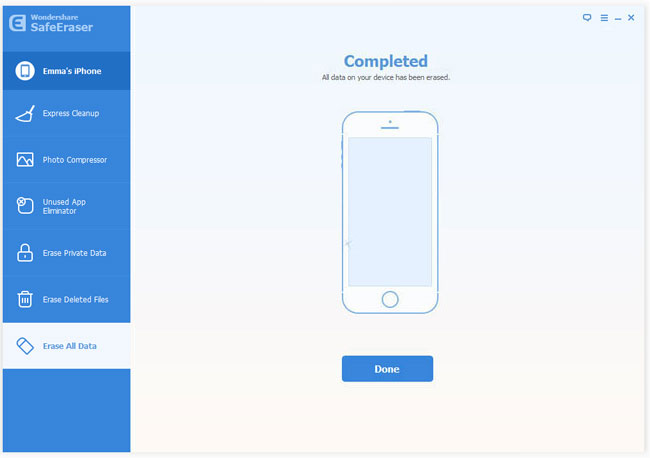 More Words for You
* * Please Note after erasing all data on your iPhone, you need to unregister or unlink the iPhone from Apple's official website to prevent it from connecting to your Apple ID after you sell it.

Related Articles:
• How to Permanently Delete All Data on iPhone, iPad and iPod?
• How to Recover Lost or Deleted Data on iPhone?