What to Do Before Upgrading iPhone, iPad, iPod to iOS 8
iOS 8, the latest and biggest release of Apple's mobile operating system so far, is now available for download on iPhone, iPad and iPod touch. With the improvements to new health and fitness apps, a brighter spotlight, smarter keyboard and and revamped notifications, and so on, most of you, the existing iOS users, can't yet wait to upgrade to iOS 8. And as long as your device isn't more than around two years old, you'll be able to get the latest iOS 8 to enjoy all of the new features on it. But before downloading and upgrading iOS 8 on your iPhone, iPad or iPod touch, here's some useful tips you need to take a look at in order to make the iOS 8 update more smoothly.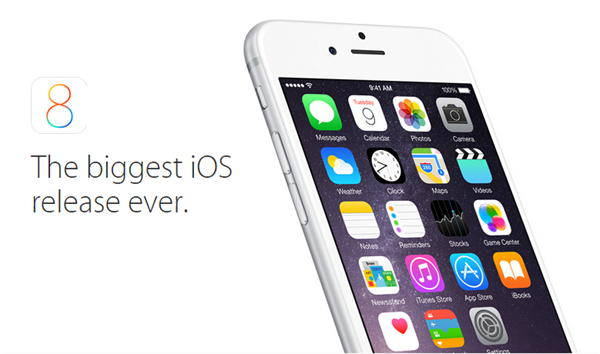 4 Things You Must Do for iOS 8 Update on iPhone, iPad, iPod Touch
1. Make Sure Your Device is Compatible with iOS 8
Firstly, you must check the compatibility to confirm your iPhone, iPad or iPod touch is capable of being updated to iOS 8. According to the official statement, iOS 8 will be available for the following devices, including: iPhone 4S, iPhone 5, iPhone 5S, iPhone 5C, iPad 2, third- and fourth-generation iPad, iPad Air, fifth-generation iPod Touch, iPad Mini, and iPad Mini with Retina display.
2. Update Your Device to the Latest Version of iOS 7
You should keep in mind that in order to upgrade to iOS 8, your iPhone, iPad or iPod Touch be on the latest version of iOS 7. You can go to Settings > General > Software Update to check for the updates.
3. Check If Your Device Has Enough Free Storage Space
The iOS 8 update requires at least 5.8GB free storage for temporarily storing the download during the update. So you must check how much free space is available on your devices before upgrading to iOS 8. You can do it by tapping Settings > General > Usage.
4. Backup Your iPhone, iPad, iPod Touch to iCloud or iTunes
Last but not least, make a backup of your iPhone, iPad or iPod touch to iCloud or to your computer via iTunes before the update, in case the personal data would be lost if you run into any problems during the update. To backup the iOS devices to iTunes, you should have the latest version of iTunes installed. And for iCloud backup, you'll need the Wi-Fi connected.
Indeed, you have another choice to backup your device to computer without iTunes or iCloud by using a 3rd-party data backup software, iOS Data Recovery. Unlike the traditional iTunes or iCloud, this program allows you to selectively backup certain kind of data on iPhone, iPad or iPod touch and access to them at anytime you like. What's more, you can also recover any data, such as photos, videos, messages, contacts, notes, etc from your iOS device with this data recovery tool if you accidentally lost them after the iOS 8 update.
Once all the prepartions are OK, you may start to upgrade your iPhone, iPad or iPod touch to iOS 8 immediately. View: How to Upgrade to iOS 8 >>
Friendly Reminder
Taught by the history, some big updates would probably cause problems on battery life, process speed, etc for iPhone, iPad or iPod touch. To avoid some unnecessary problems, it's better to hold off for a week or two to upgrade to iOS 8.
More Tips of iOS 8:
How to Downgrade from iOS 8 to iOS 7
How to Download and Install iOS 8 on iPhone, iPad and iPod