How to Compress Photos to Reclaim Storage for iPhone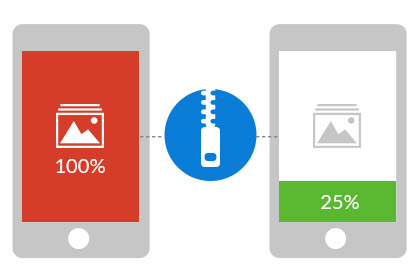 Q: I need to upgrade to iOS 8 for my iPhone 5 but there is no enough space for the upgrading. I checked the usage of my iPhone and found the photos in total have used about 5GB out of the 16GB storage. I know I can backup the photos to my computer to save the space of iPhone. But the problem is that I still want to keep the pictures there. So is there any way I can do to reclaim the storage of my iPhone by compressing the photos to smaller size?
Storage issue of iPhone could be a big annoyance for most users since the lacking of enough space would lead to troubles when upgrading to new iOS or installing new apps. In most cases, the photos are supposed to take a large storage for each photo taken by iPhone is set to be about 3MB by default. Now you will not be bothered any more with the help of iPhone Data Eraser, which will free up your iPhone storage by compressing iPhone photos to smaller size, making it easy for you to view and share photos. With iPhone Data Eraser, you are able to compress a 2MB photo to 512KB with ease.
Before started to free up iPhone space by compressing the captured photos on it, you may firstly download and install the proper version of iPhone Data Eraser on your computer.
Guide: Compress Captured Photos to Free Up Space on iPhone
Step 1. Connect iPhone to computer
Launch iPhone Data Eraser connect your iPhone to the computer via USB cable. Then click on "Photo Compress" in the left column. In the window on the right, click "Start Scan" to let the eraser scan your iPhone for the captured photos on it.
Step 2. Select iPhone photos you want to compress to small size
After the scanning, all pictures saved on your iPhone will be checked, displaying the total space you're going to save if you compress all the photos. You can also uncheck those photos you do not want to compress.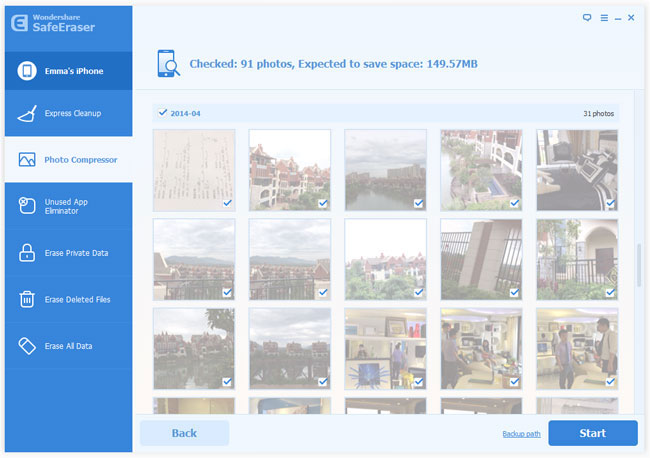 Step 3. Backup iPhone photos to computer before compression
Before doing the photo compression on iPhone, iPhone Data Eraser will automatically backup your original photos from your iPhone to computer. You can change the backup path by selecting the "Backup path" option.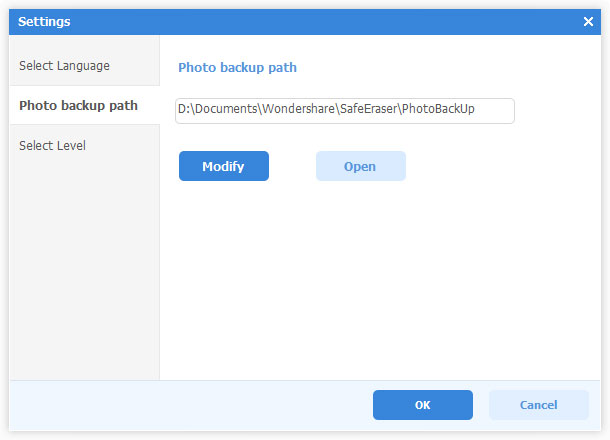 Step 4. Start to compress photos of your iPhone to reclaim space
Click "Start" button and iPhone Data Eraser will begin to compress all the photos you've checked on your iPhone. When the compression finishes, you can see how much space you've saved and the current capacity your photos occupied on your iPhone.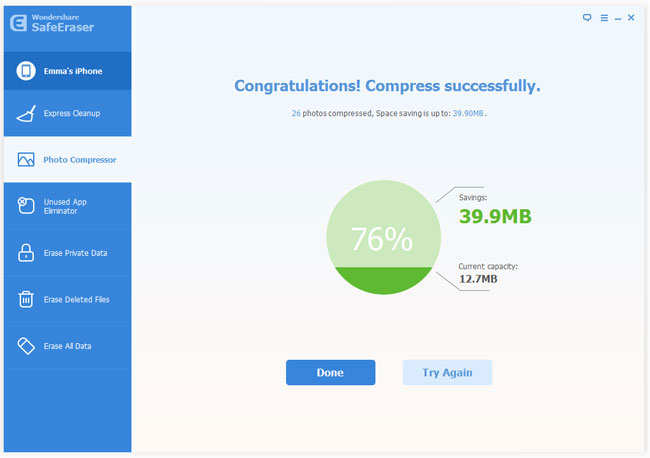 You might be somehow worried about the image quality of photo compressed by iPhone Data Eraser, right? But that's totally unnecessary you will see that the compressed photos just look almost the same as the original ones, except they occupy less space.

Related Articles:
• How to Delete Junk Files on iPhone?
• How to Permanently Erase Private Data from iPhone?
• How to Permanently Erase "Already Deleted" Files on iPhone?