How to Permanently Erase "Already Deleted Files" on iPhone
Q: I have an iPhone 5 and would like to sell it for the upcoming iPhone 6. In order to prevent the personal information from leaking out to others, I have already deleted all the files with the iPhone's built-in data erasing method. But I'm starting to worry about the deleted contents now. Any possibility that those deleted files still exist in iPhone or could they be recovered by some software later? If possible, how can I erase those "already deleted files" from my iPhone for good to make sure the important data can't be accessed by others?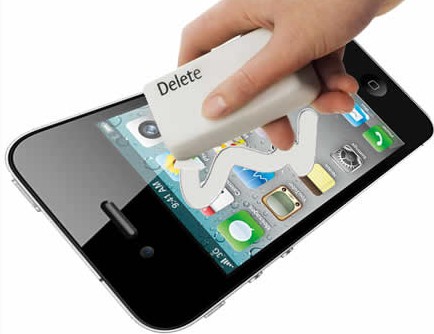 Most of the time when we deleting files from iPhone, we will always expect it to be permanent either for secure reason or space clean purpose. But the result turns to be the reverse of our wishes. As a matter of fact, the deleted photos, videos, and other important personal data won't actually be removed from iPhone. On the contrary, they are likely to stay for a very long period of time. Worse still, all those deleted files are easily to be accessed for someone who steals or "borrows" our device by applying some professional iPhone data recovery software, like Dr. Fone iOS Data Recovery.
Then how to permanently erase those deleted data on iPhone to have our personal information secure with us? Don't worry. It would be easily solved with the help of an ideal iPhone "erase" tool, that is, iPhone Data Eraser.
This data eraser for iPhone is exclusively designed to help iPhone users permanently delete all iPhone data, including the already deleted ones thus to prevent identity theft on iPhone. Before getting started to erase the deleted files from your iPhone once and for all, please download the trial version of the iPhone data eraser for free and install it on your PC.
Guide: Erase "Already Deleted iPhone Files" Permanently
Step 1. Connect your iPhone via USB to computer
After installation, run iPhone Data Eraser on your computer and then connect your iPhone to your computer. Once the device is recognized, the main window will pop up as below: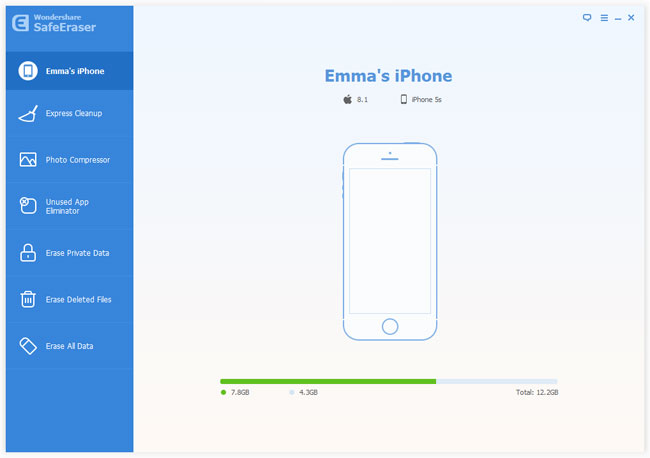 Step 2. Choose "Erase Deleted Files"
iPhone Data Eraser provides 4 ways to permanently delete data on your iPhone. Click "Erase Deleted Files" option in the left side bar.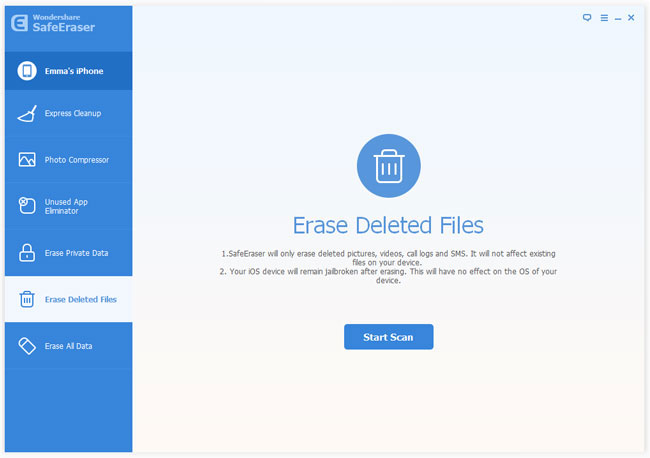 Step 3. Start to scan trashed iPhone files
Click "Start Scan" button and the program will start analyzing and scanning the deleted data on your iPhone.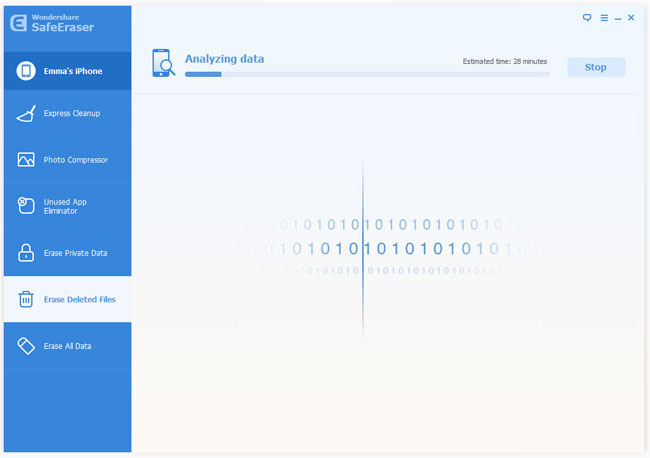 Step 4. Erase deleted data from iPhone
After scanning, select the deleted data to view detailed information of the file. By default, all files will be selected. You can unselect the files you wish to keep and click "Erase Now" to begin permanently erasing the deleted files.
Note: You will be prompted to type the word 'delete' to confirm the permanent deletion of the data.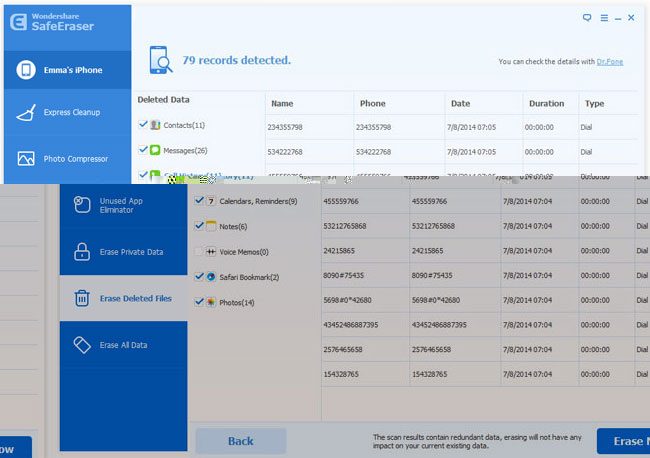 Step 5. Use your iPhone as a new device
iPhone Data Eraser will begin to erase the data automatically. And files on iTunes will also be erased ensuring the data is unrecoverable via iTunes. Once the deletion is completed, you can use your iPhone as a totally new device.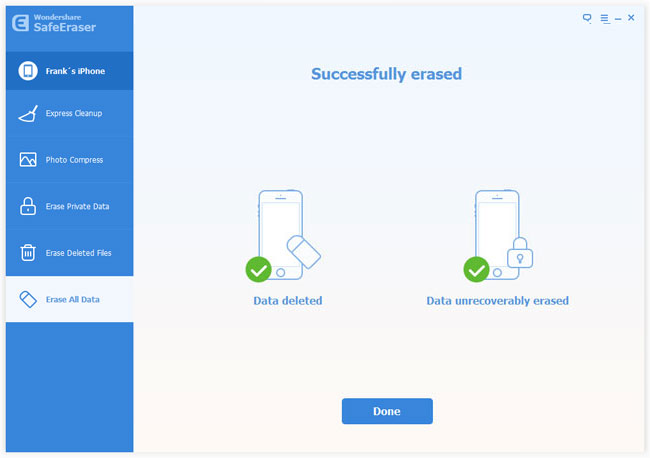 More Words for You
You can also use this iPhone Data Eraser to delete all your iPhone data and private information permanently. But you may note that after erasing data on your iPhone with this data eraser, you can't recover those files any more. So you'd better make a backup of your iPhone before erasing to make sure you'll need to restore the info in the future.

Related Articles:
• How to Permanently Erase All iPhone Data Before Selling It?