How to Erase All Data on iPod Touch Permanently
I got a new iPod touch and would like to give the old one to my friend for using. But before that, I prefer a permanent erasion of the iPod touch to keep my personal info from being leaked out. I know the built-in erasing method on iPod touch would do the job well. But I'm still worrying about the data saved in that iPod would be accidentally recovered or used. So is there any way to clear everything off my iPod touch so that the deleted data can't be recovered any more?
For different reasons, you may need to completely resetting your iPod touch. As you know, like other iOS devices, iPod itself also provides the resetting function to clear all info saved on it. With this method, you only need to open your iPod touch and move to "Settings > General > Reset > Erase All Content and Settings" to get all the data on your iPod deleted. It seems to be safe enough since it's an official solution provided by Apple. But the fact is, all those deleted data are still facing the risk of being recovered by some professional data recovery tool, like Dr. Fone iOS Data Recovery. This is because the deleted songs, videos, and other important personal data won't actually be removed from iPod touch. On the contrary, they are likely to stay for a very long period of time.
Despite the default data erasing method, in order to permanently wipe all data off iPod touch, you need to use a third-party erasing software, like iPod Data Eraser to delete all the songs, videos, photos, etc permanently from iPod touch. Besides deleting private data from iPod touch, this software can also help you erase deleted files from iPod, and delete junk files from iPod touch, etc.
Before following the steps to erase iPod touch with iPod Data Eraser, you should download the trial version of the data eraser for free.
How to Permanently Delete All Info from iPod Touch
Step 1. Connect your iPod touch to computer
Run iPod Data Eraser and connect iPod touch to computer via USB.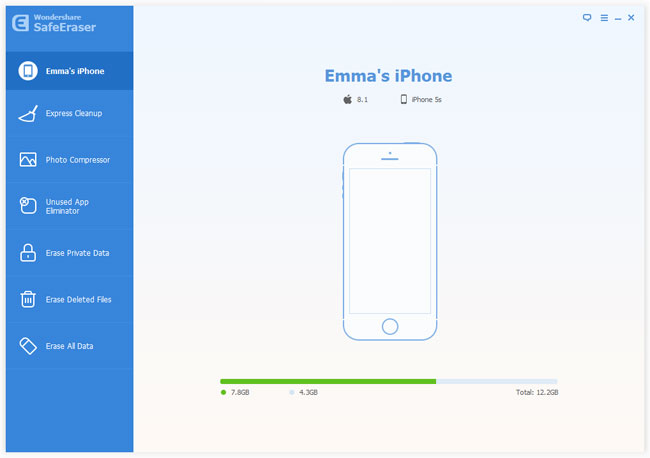 Step 2. Choose data erasing type
There are several ways to delete data from your iPod touch. You can select the one suits your needs. Here let's choose "Erase All Data" option.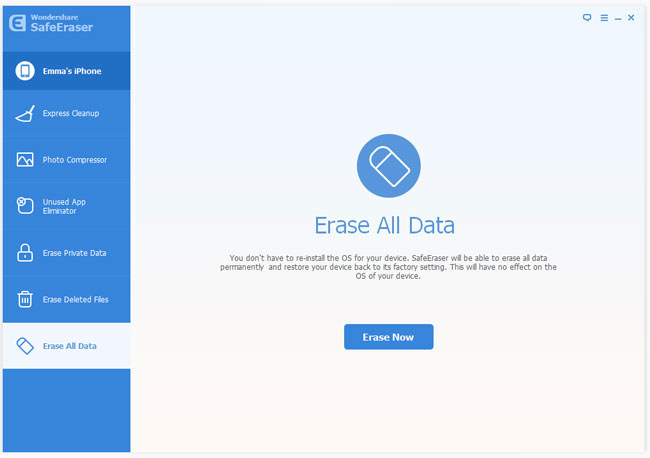 Step 3. Begin clearing all info on your iPod touch
It offers three levels for data erasing - High, Medium and Low. Choose the one according to your requirements and click "Erase Now" button to begin to erase all data from iPod touch.

Related Articles:
• How to Delete All Data from iPhone Permanently?
• How to Erase iPad Data Permanently?