How to Recover WhatsApp Chat History on iPhone
Deleted all WhatsApp chat messages on your iPhone 5/4S/4/3GS?
Since WhatsApp has gained widespread popularity, it seems that accidental deletion of chat history on WhatsApp has become a common problem for most iPhone users. For example, you meant to hit Add a conversation shortcut on WhatsApp but instead you tapped Delete chat under that option. And you clicked "Yes" without thinking! In result, your WhatsApp chats are all gone leaving you no record.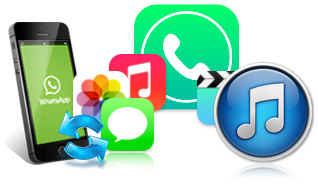 What's worse, if you go to WhatsApp official website asking for message recovery help, you will only get the statement that they can't retrieve any deleted messages for you since your WhatsApp conversation history is not stored on their servers. But the good news is that if you are using WhatsApp version 2.10.1 and later, you can restore your WhatsApp chat history via iCloud backup, on condition that you have made a backup of your chats in iCloud backup. Otherwise you must use a third party iOS data recovery service to help you recover all the WhatsApp messages from iPhone. For the tutorial on how to recover WhatsApp chats from iCloud backup or with iOS data recovery program, you can simply refer to the steps in the following article.
iPhone WhatsApp Recovery Software
iPhone Data Recovery enables you to recover deleted WhatsApp chat history by scanning your iPhone 5/4S/4/3GS. It can not only recover all the WhatsApp chats, but also photos, videos, emoji, etc.
Method 1: Recover Deleted WhatsApp Messages on iPhone 5/4S/4/3GS
Note: Download the trial version of iPhone Data Recovery on your computer.
Step 1. Connect your iPhone to PC
After downloading and installing iPhone Data Recovery, run it on your computer. Then connect your iPhone to the computer with a digital cable. You'll see the window below if you use iPhone 5 or iPhone 4S.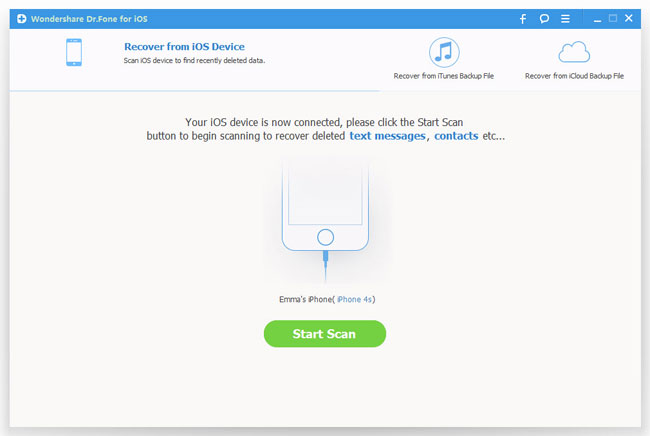 But if you use iPhone 4 or iPhone 3GS, the main window will be shown as follows after detecting your iPhone.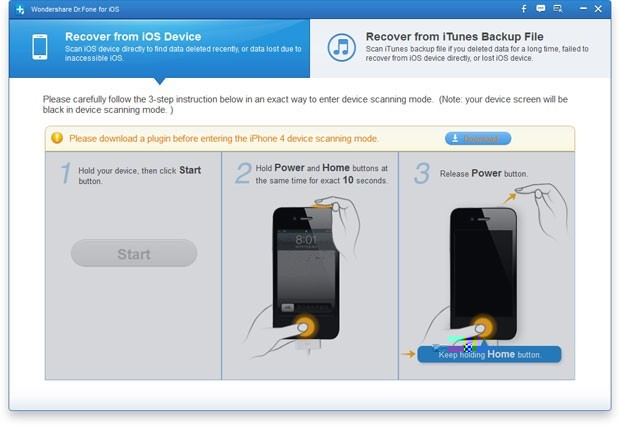 Step 2. Scan your iPhone for deleted WhatsApp chat history
For iPhone 5 and iPhone 4S users, you can directly click the "Start Scan" button on the program's main window to scan your iPhone.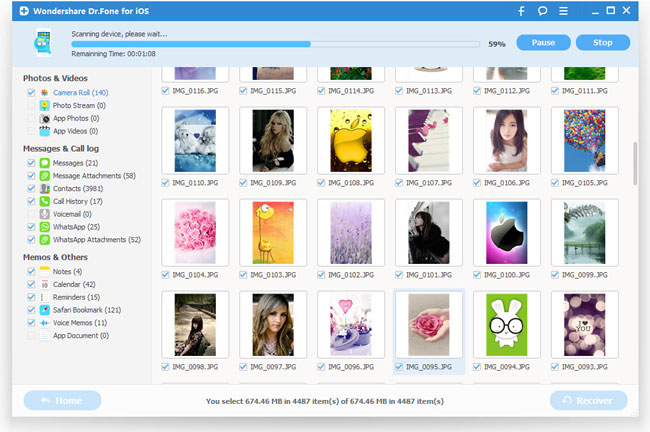 For iPhone 4 and iPhone 3GS users, you need to follow the steps below to access the device's scanning mode to scan deleted WhatsApp messages: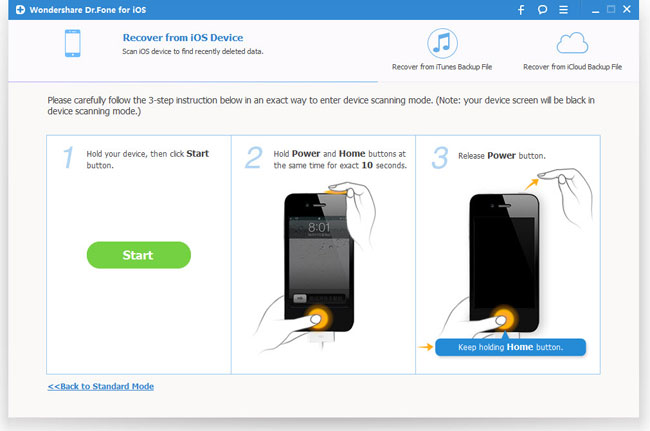 1) Click the "Start" button on the window after connecting your iPhone;
2) Immediately tap the "Home" and "Power" buttons on your iPhone for 10 seconds;
3) When 10 seconds passed, you can release the "Power" button, but still tap the "Home" button for another 15 seconds, until you're told that you've successfully entered the scanning mode.
Step 3. Preview and recover WhatsApp chat history on your iPhone
During the scan, you can start to preview the found data in the window. Click WhatsApp on the left side of the window to preview all found WhatsApp chat records, which contains chat contents, names, phone numbers and attachments. Choose those you want to recover and tick them off. Then click "Recover" to save them on your computer.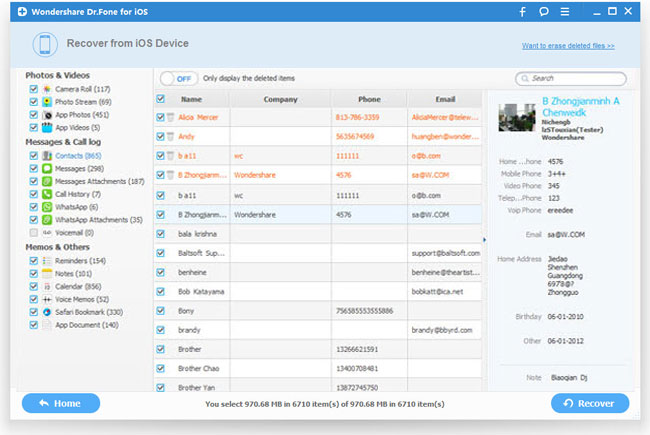 Method 2: Recover Deleted WhatsApp Chat History from iCloud Backup
To recover your chat history from an iCloud backup, first verify that there is an iCloud backup for your chat history in WhatsApp Settings > Chat Settings > Chat Backup. If you can see when the last backup was performed, simply delete and reinstall the app from the App Store. After verifying your phone number, follow the on-screen prompts to restore your chat history. The same iCloud backup requirements apply for iCloud restore. In addition, the phone number used for backing up and restoring must be the same.
More about WhatsApp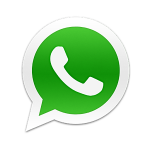 WhatsApp Messenger, developed by WhatsApp Inc., is a cross-platform mobile messaging app which allows you to exchange messages without having to pay for SMS. It is available for iPhone, BlackBerry, Android, Windows Phone and Nokia. Because WhatsApp Messenger uses the same internet data plan that you use for email and web browsing, there is no cost to message and stay in touch with your friends. In addition to basic messaging WhatsApp users can create groups, send each other unlimited images, video and audio media messages. On February 19, 2014, Facebook Inc. announced it is acquiring WhatsApp Inc. for US$19 billion.
More about iPhone Data Recovery:
iPhone Data Recovery can not only recover deleted WhatsApp chats for iPhone 5/4S/4/3GS, it can also recover other iPhone files, including photos, videos, contacts, SMS, notes, call logs, memos, calendars, Safari bookmarks and more on iPhone 5S/5C/5/4S/4/3GS.
Related Articles:
• How to Recover Deleted Photos from iPhone?
• How to Retrieve Lost Videos from iPhone?
• How to Recover Deleted Contacts on iPhone?